Cheap Hotels in Munich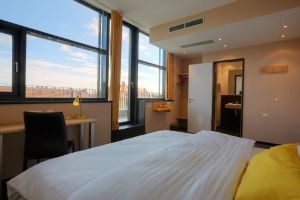 Munich is a delightful city, situated on the River Isar at the edge of the Bavarian Alps. Better known for its financial and publishing sectors, Munich is also a very popular tourist destination. Walk through magnificent palaces like Neuschwanstein or enjoy an incredible evening at the Bayerische Staatsoper Opera House. Why not even skate on the 1972 Olympic ice rink or swim in the Olympic pool and best of all you can do it on a budget, the list below is designed to help the traveller pick the best of
cheap Munich hotels
.
Best for.....
Style
The Leto Motel hosts bright, cheerful rooms with a full view of the city, perfect for that relaxing weekend. A large LCD TV and free internet along with tea and coffee are available for your convenience. With tram stops just outside the hotel you can find your way to the Olympia Shopping Centre in just 3 minutes or take a wander further along to enjoy more of the sights and culture Munch has to offer.
Best for.....
Culture
The Hotel Monaco greets you with spacious rooms and beautiful furnishings. You can keep yourself and kids entertained by Borrowing books, games and puzzles from the on-site library. For tourists who enjoy a cultural outing you will find over 80 museums in Munich to choose from, including Munich's very own version of Hollywood, The Bavaria Film Studios.
Best for.....
Business
Located in Liam, The Business and Budget Hotel Tessin is a 5 minute drive from the Airport and 10 minute from Munich's main city transportation. Take time to see the beauty of the Nymphenburg Palace which is a short walk from the hotel and minutes away from a beautiful beer garden where you can sit and unwind in the evenings. A Large LCD satellite TV and free WLAN are included in each room.
Best for.....
Families
The Hotel Econtel Munich offers large rooms that are beautifully decorated; you can even ask for the Mickey Mouse room if you're traveling with children. Take full advantage of their free black coffee - Café crème until midnight. Indulge in a pleasant breakfast before heading out to discover the city. The English Garden is beautiful for a family picnic, and the Marienplatz public square features a clock tower that showcases a Glockenspiele that is a must see.
Best for.....
R&R
Situated along the edge of Perlacher Forest, The Ambient Hotel Colina is just 15 minute ride away from the city centre. You can relax and take in its quietness by relaxing in the sauna, working out in their fitness centre or taking a stroll through the outside forest area. The hotel restaurant serves light snack all day and a full buffet breakfast is served from 7 till 10 am. Indulge in their large selection of beverages and mingle with other tourists and locals alike at the hotel bar.
Comments?
If you want to let us know about your personal experience in any of the above mentioned hotels in Munich, feel free to write us to anytime!
Further information about Munich Tours and our sightseeing program